U-shaped kitchen and ideas for its installation
---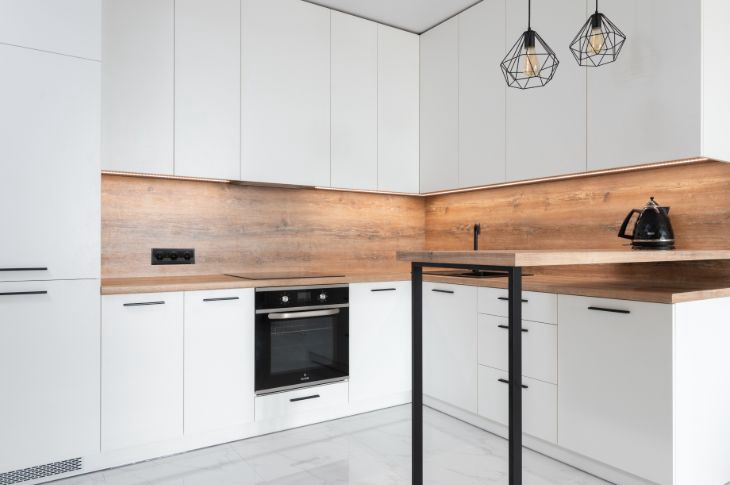 Photo: Pexels.com
A U-shaped kitchen is a great choice for those who have both a small and a large kitchen space. This arrangement of furniture allows you to quickly reach every corner of the kitchen and, of course, use all possible options for storing things. If you doubt whether this option would work in your home, we invite you to get inspiration from great examples of U-shaped kitchens.
Use every corner of the kitchen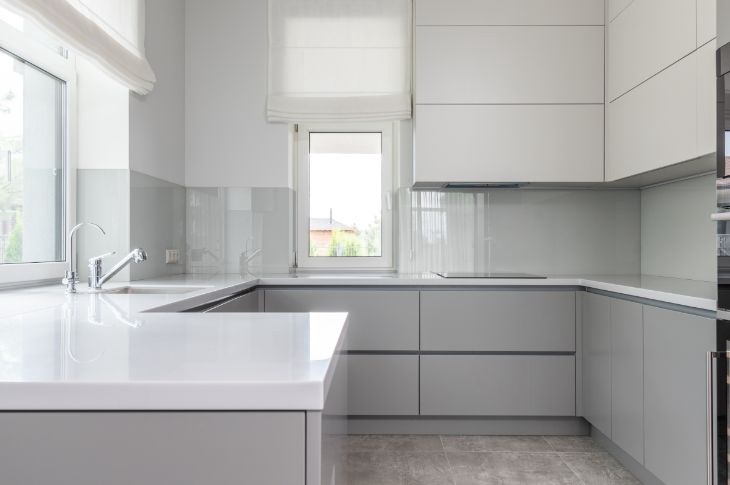 Photo: Pexels.com
A U-shaped kitchen is usually chosen by people who want the least amount of worktops. It is very easy to explain — after installing a U-shaped kitchen, every corner of the kitchen is used, so there is no shortage of space for various items used in the kitchen —
plates
cups, whisks and other items can be stored in cupboards.
If you want an even more spacious kitchen, don't forget that the upper cabinets can reach the ceiling, and you can install rotating surfaces in the corner cabinets, which will allow you to reach the items in the front as well as in the back with equal ease. Also, assess your needs and decide what is more important to you — drawers or shelves. Even such a small solution can save a lot of space.
Use magnets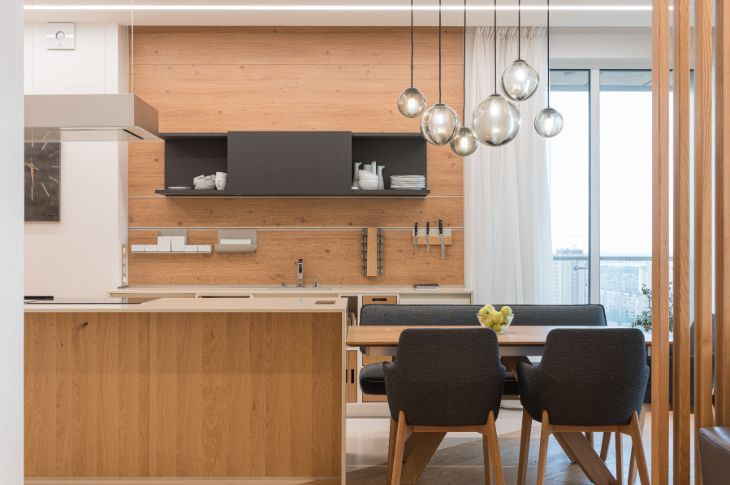 Photo: Pexels.com
When it comes to empty countertops, it is also worth mentioning the accessories that are attached to the wall. If you're annoyed by towels that don't have a place, the paper towel roll that gets wet all the time, that cluttered knife rack and spices that get thrown everywhere,
containers for bulk products
, give these items space on the wall. The easiest way to do this is with magnets — magnetic spice jars, knife blades and towel racks will attach to magnetic tape, which you can easily stick to the wall. Believe me, if you choose this way of storing things, you will be happy with this solution every time you visit the kitchen — a clean, tidy countertop creates peace of mind.
Use the countertop to set up a U-shaped kitchen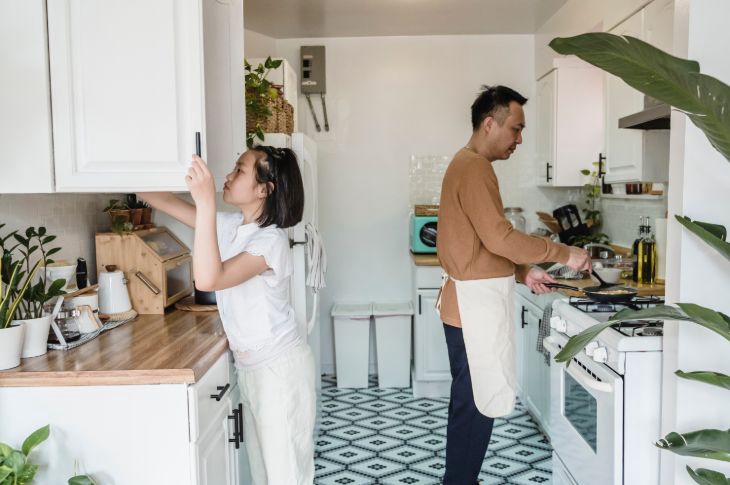 Photo: Pexels.com
A U-shaped kitchen is easy to make even if the kitchen used to be of a different shape — you don't need to remove any items, just buy another countertop and a set of cabinets. Well, if you want a budget option, you can make a low shelf and put a matching table top on it — this way you will have more space for both cooking and storing things (if you don't like openly visible things, here's a help
storage boxes
– you can put smaller tools, food products in them).
If there is produce that you use in extremely large quantities (it doesn't have to be food stocks — maybe it's dog food, for example?), you can fit it with large storage bins or sorting bins that match the overall interior of the kitchen. Such a small detail provides a lot of convenience and helps to fill an empty space without large investments.
Form an island
Photo: Pexels.com
For those who have an extremely large kitchen and want to use the space to the maximum, we recommend not only a U-shaped kitchen, but also an island.
Dishwashers
you may not install it in the island, but it is perfect for installing a hob and using it instead of a dining table — all family members and friends will definitely fit around the island, and you will instantly serve weekend pancakes from the pan directly to plates.
The island can be both without lower cabinets, thus even more reminiscent of a dining table, and with lower cabinets, which will accommodate many less frequently used items.
Turn the edge of the tabletop into a bar
Photo: Pexels.com
Another idea for those who want to abandon a separate dining table is to turn one of the edges of the U-shaped kitchen table into a bar. The high table top can be used both for eating and, if necessary, for cooking — a single table top will not interfere with any activity. Well, the bar stools can always be transported, if you need access to the table top without obstacles, it is enough to pull the chairs to the side, and if necessary, they can return to their original position.
Make use of the shelves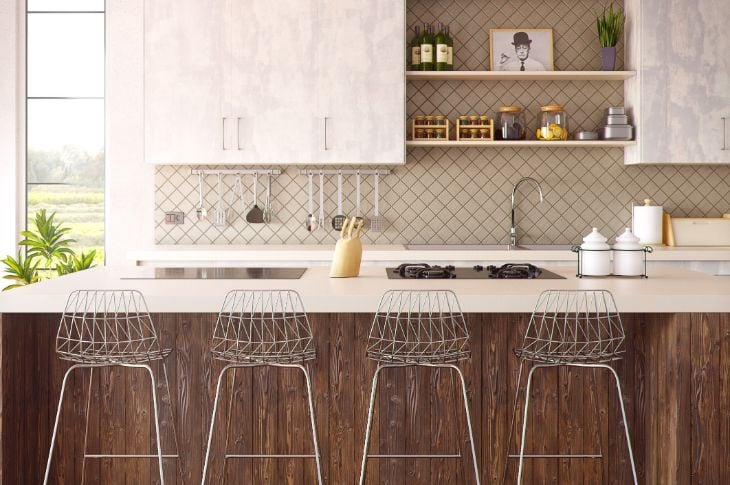 Photo: Pexels.com
If you think that the upper cabinets around the entire perimeter of the U-shaped kitchen would look too heavy, would complicate the interior, replace one or more cabinet units with shelves. Shelves can be used in a variety of ways — store spices, bulk products, wine, you can put all your cookbooks on the shelves and add greenery to the kitchen by placing a plant. Such an interior solution will visually increase the space and make it cozier.
True, you can turn such shelf inserts into themed ones with a specific purpose. For example, allocate them for storing different types of coffee and tea, place a beautiful sugar bowl and accessories for hot drinks nearby. Under the shelves there will be space for tea and
coffee makers
. Such a themed area is what many dream of — everything in one place.
Dedicate an entire wall to shelves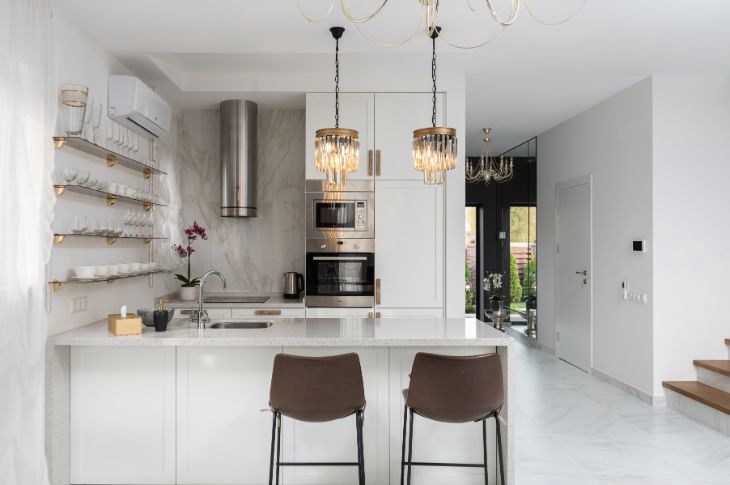 Photo: Pexels.com
If a small shelf insert seems insufficient to you, dedicate an entire wall to the shelves. In this case, you will be able to fit a whole collection of single purpose items on the shelves. For example, all utensils for eating and drinking food — identical plates, cups, bowls, glasses, maybe even tools. Such storage of single-purpose items on the shelves creates a sense of integrity and order — you avoid excessive, eye-catching and tiring colors, and you introduce a certain system.
Of course, if the system is not to your liking, do not be afraid to experiment and adapt the arrangement of items on the shelves to your desired interior and comfort. If the entire interior is extremely colorful, you can also store items that match the color on the shelves.
Lighten up the lower part of the kitchen
Photo: Pexels.com
We have already found out what to do if the top is too full. And what to do if the lower part of the kitchen is too densely furnished? Let's make it easy!
We have already mentioned that one side of the U-shaped kitchen can represent a dining table or a bar. If you choose this place completely hollow, you will make the entire interior even easier. It is also worth noting that nowadays, when we all spend a lot of time sitting, the idea of ​​working and eating while standing up is being raised more and more often. Maybe this is your sign to give up chairs in the name of health and interior?
Choose the style you like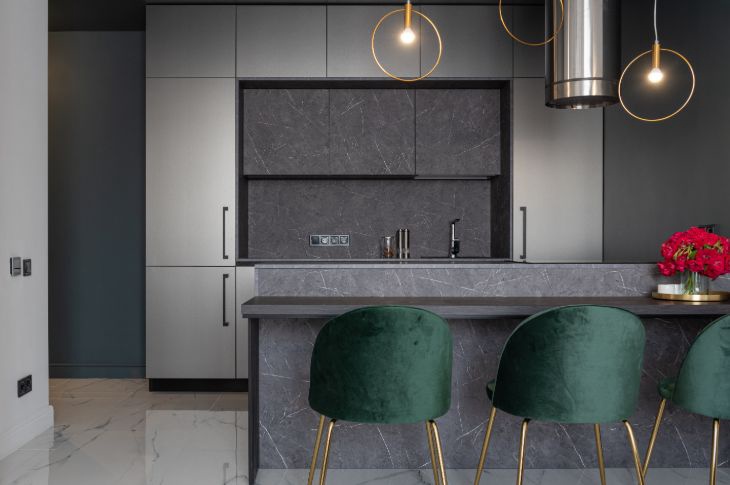 Photo: Pexels.com
The interior of the U-shaped kitchen, like any other shape of the kitchen, can be in any style — it does not depend on the shape. Choose the option that is closest to your heart — and it does not matter whether it will be a classic, modern or minimalist interior. The most important thing is that everything is beautiful and comfortable for you.
Consider the arrangement of household appliances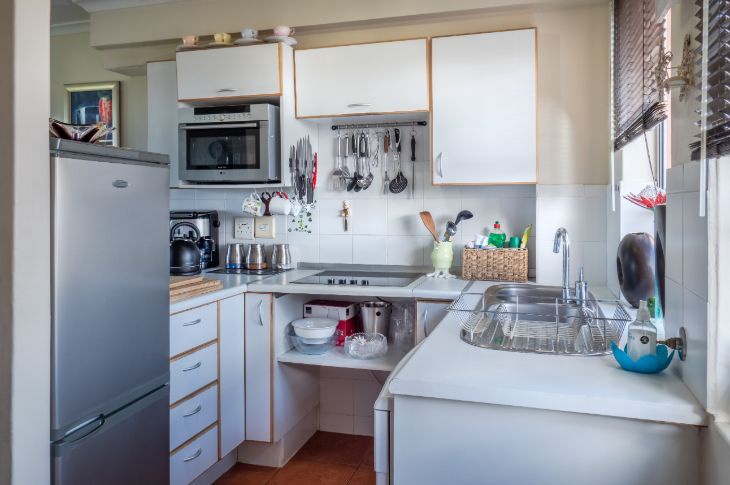 Photo: Pexels.com
It is also worth reminding that this form of kitchen is suitable for a kitchen of any size — the overall look and comfort depends on the work put in. Consider the arrangement of household appliances, shelves, drawers, and you will always be happy with the place where family meals are prepared.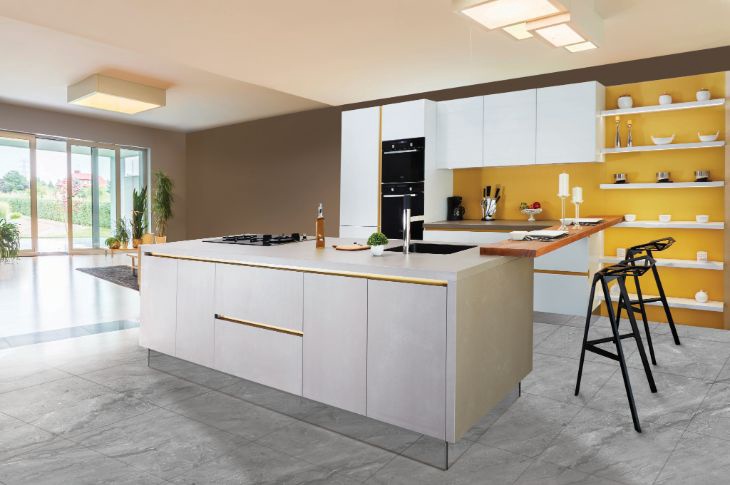 Photo: Pexels.com
The advantage of a U-shaped kitchen is extremely high-quality use of space, so if you choose a kitchen of this shape, you can forget about cluttered countertops and kitchen tools that don't fit anywhere. You can always find everything you need for a U-shaped or any other shaped kitchen in the online store 1a.lt — we invite you to visit!