The best kitchen ideas for everyone
---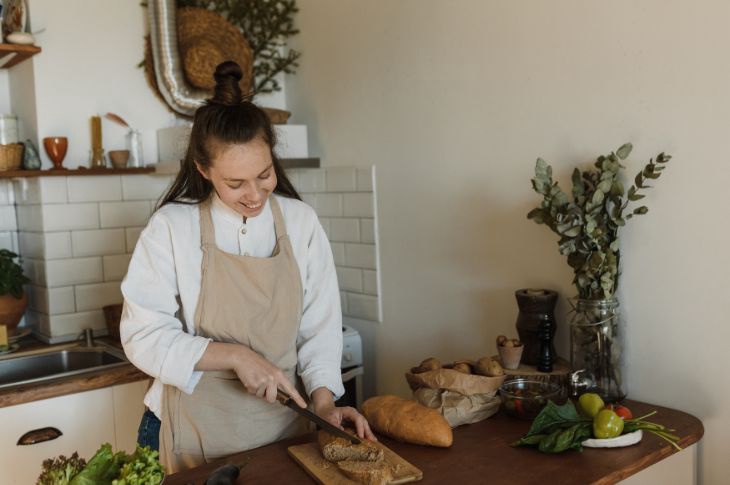 Photo: Pexels.com
When we live in the same house for a long time, we begin to notice its shortcomings. Perhaps we could have planned some area better, and left more free space in another… We invite you to allow changes and find out what kitchen ideas are most appreciated recently — this will help not only to update the existing kitchen, but also to install the one that is still planned.
Open shelves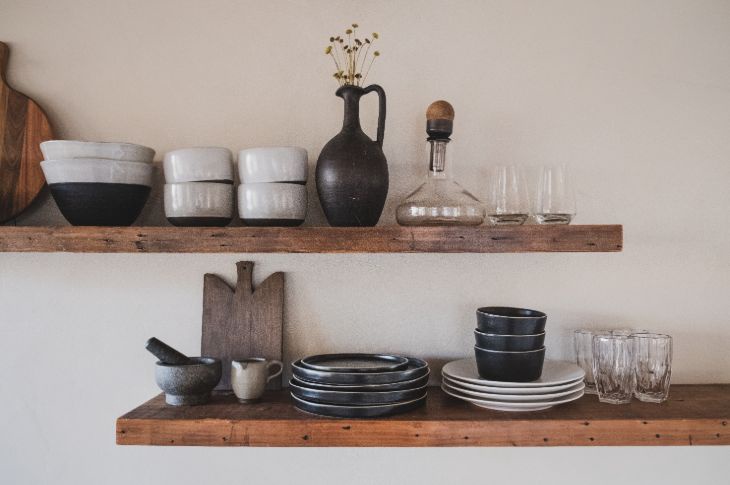 Photo: Pexels.com
First of all, it is necessary to understand that kitchen ideas can and should be not only beautiful, but also practical and useful. If you want practical decorations, the best and easiest idea to implement is open shelves. Match their color, thickness, and textures to the existing or desired interior.
It is also important to think about what and how you will store on the shelves — open storage systems require maintenance, you need to put things in their place so that they are always in order. The most beautiful will look the same in them
plates
, bowls, coffee or tea cups. You can place a matching vase next to it, and prop up a few cookbooks.
Make the kitchen U-shaped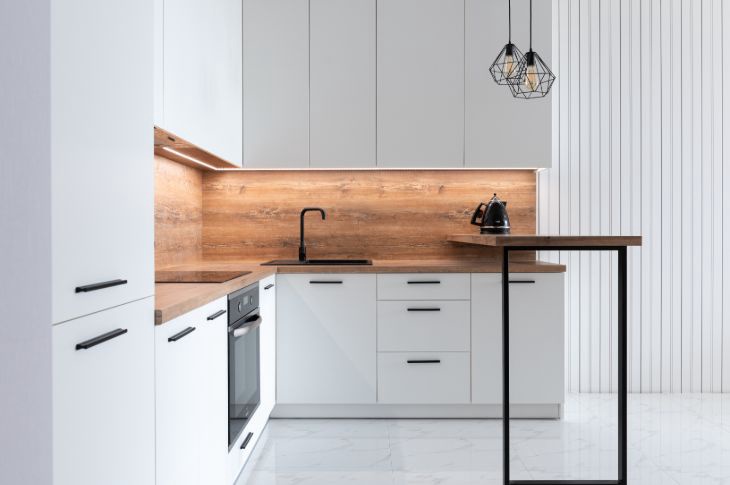 Photo: Pexels.com
Kitchen ideas for small spaces can be creative and maximize the available space. If you have an L-shaped kitchen and a dining table that takes up a lot of space, convert the kitchen into a U-shaped one — just extend the worktop. This will allow you to increase the area used for cooking, and also to give up a large table, since the whole family and friends will fit at the narrower, but longer and more practical end of the tabletop.
To make even more use of this space, install shelves or cabinets under the worktop. This place is most convenient for storing less frequently used items — for example, coffee grinders, large mixing bowls and similar items will find a place here.
Protective wall behind the table top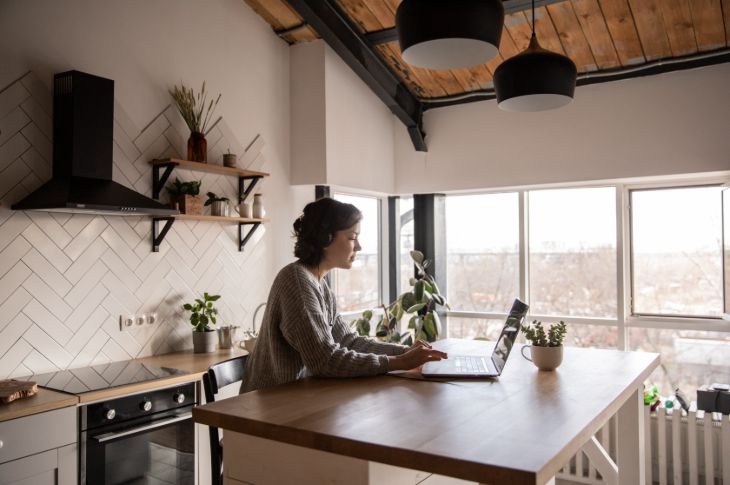 Photo: Pexels.com
Continuing the theme of practical ideas, we should not forget about the protective wall behind the worktop, especially in the hob area. Unfortunately, this wall gets splashed and stained almost every time we do something in the kitchen, so it is necessary to choose easy-care materials. If you have not had a protective wall until now or you already want to update the existing one, pay attention to the tiles. Tiles are an easy-to-maintain and long-lasting solution. After cooking, it is enough to wipe them with a damp cloth and all the dirt will be removed.
The implementation of this kitchen idea is suitable for any interior — it all depends on the selected tiles and their gluing pattern. Do not be afraid to experiment, make unusual decisions — the most important thing is that the interior is pleasant and comfortable for you.
Simple kitchen restoration
Photo: Pexels.com
If you want fairly obvious changes at low cost, use what you have. It is not necessary to change all the cabinets and countertops to change the look in the kitchen, a simple restoration can be enough.
Grind the peeling, out-of-shape corners, level uneven surfaces. Prime everything, paint it in the desired color and varnish it with a protective, easy-care layer. If you want an even greater effect, update the handles as well — they are not expensive, but properly selected handles drastically change the overall look of the furniture.
Don't be afraid of change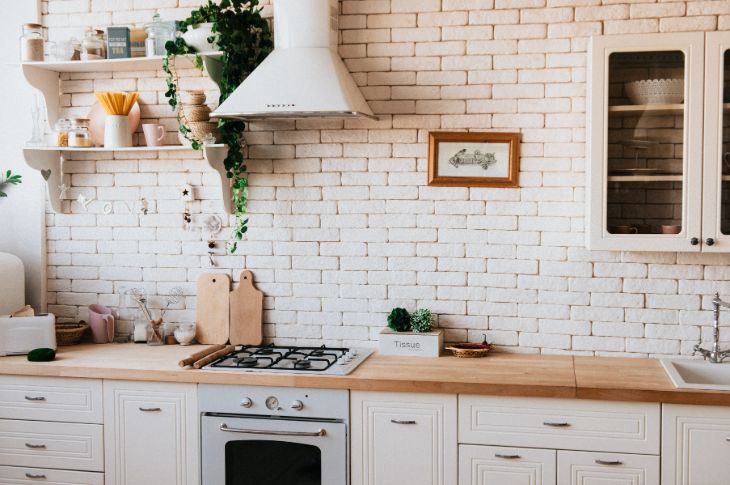 Photo: Pexels.com
Don't be afraid of a little more change when updating your furniture. If the cabinet doors are already bored, put glass in them and neatly sort things on the shelves — the same
containers for bulk products
arranged according to size
coffee makers
accessories for making coffee and tea will become not only useful items in the kitchen, but also play the role of decor.
Follow the rules of minimalism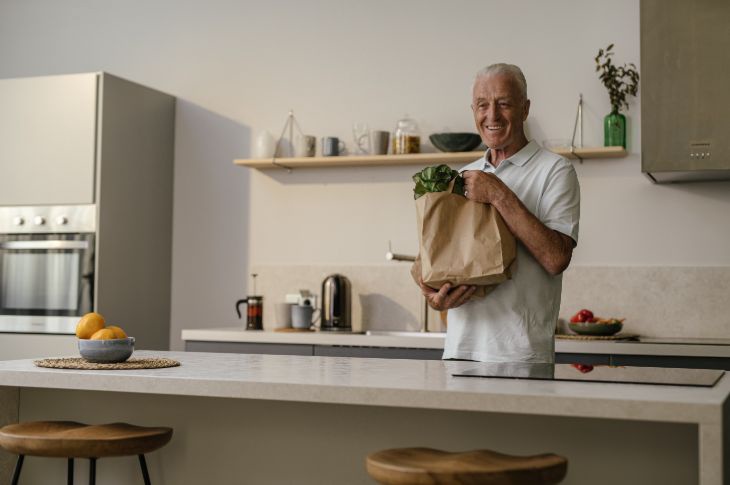 Photo: Pexels.com
For those who cannot decide which kitchen ideas suit you best, we recommend doing everything based on the rules of minimalism. This means that the entire base (furniture, walls, large household appliances) should be in neutral colors that do not tire the eyes and do not cause color noise, and easily replaceable details should enliven the image and create a unique, individual interior. The easiest way to do this is by purchasing interesting, beautiful dishes, unique small household appliances (for example, a teapot), plants, spice jars and other inexpensive and easily and quickly replaced accessories. When the image is boring, the details can always be changed in an instant, and it is more difficult to change furniture or large household appliances, so when choosing these items, it is best to pay attention to neutrality, minimalism, which does not get boring.
Consider the details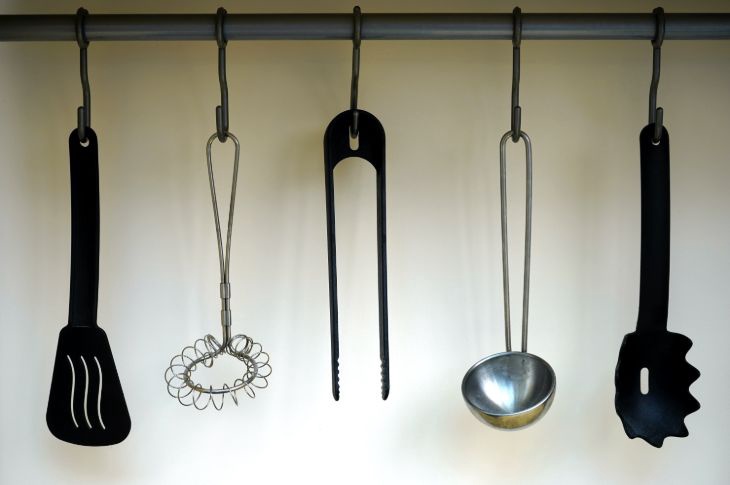 Photo: Pexels.com
Details are very important in every room. If your kitchen interior is extremely modern, minimalist, and you attach ancient ladles, spatulas, different and worn knives to the wall, this interior detail will look strange, to say the least. On the other hand, if your kitchen is classic, French-style, modern accessories will not match the overall picture and will create a mess.
Consider all the details, if they are visible. Of course, if you keep all the items in drawers and closed shelves, their design will not change the interior, but if the items are displayed or hung in a visible place, consider their arrangement, colors, and design.
Lighting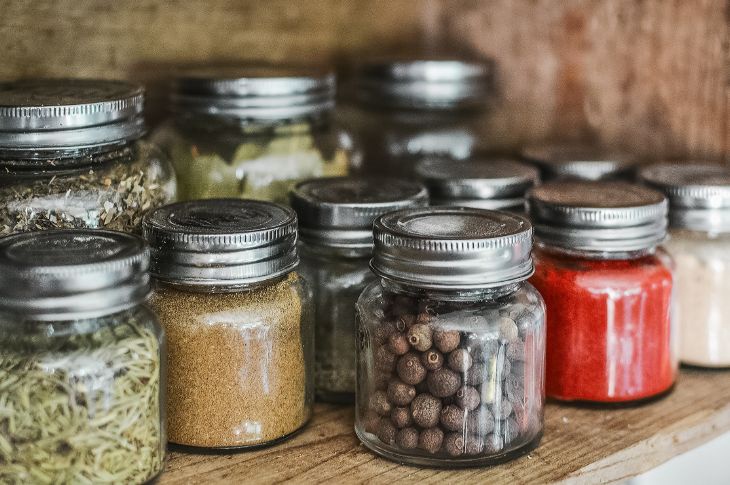 Photo: Pexels.com
Lighting is also important. With its help, you can emphasize desired areas and divert attention from less beautiful areas. Lighting is also directly responsible for the mood of the room — the brighter the room, the more fun and pleasant it is to spend time there.
Currently, cold light is becoming more and more popular — it perfectly emphasizes the advantages and beautiful aspects of a minimalist, strict interior. Meanwhile, warm lighting is more suitable for classic interiors. However, do not forget that these are only guidelines — you can find many examples in which a minimalist interior is illuminated with warm light, while a classic interior is enlivened with cold. The most important thing is to match the right amount of light, thanks to which working in the kitchen would be pleasant and comfortable.
Things on the table top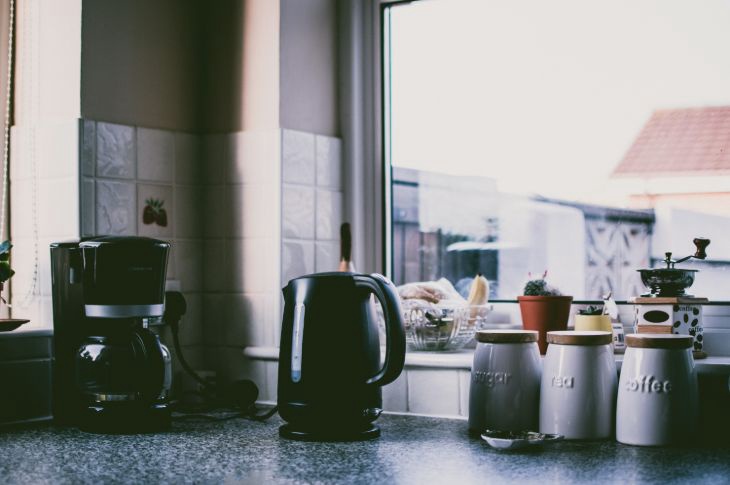 Photo: Pexels.com
The topic of «what to keep on the table» is often debated. Some people like clean, uncluttered countertops (there's even a separate English term for that — «clutter free»), while for others things that are used every day must be visible and easily accessible («after all, it's much cozier when you can see that people live in the house!»). And, it is necessary to emphasize that there is no one side of the truth, everyone creates the rules they want in their house.
From our side, we can only advise and share the thoughts of specialists. Specialists say that things that do not have a convenient place elsewhere should be kept on the tabletop. For example,
thermos for food
can also be stored in a cupboard, and it is more convenient to store the kettle directly on the table top.
Align the expectations of each family member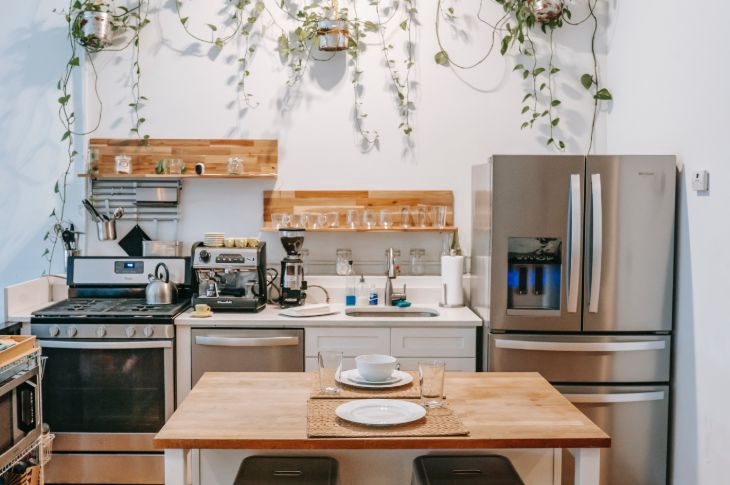 Photo: Pexels.com
The best kitchen ideas are not limited to strict order. Each house is home to personalities with different interests, desires and visions of the perfect kitchen. Adjust the expectations of each person — this way you will create a kitchen where every member of the family is happy to cook and eat.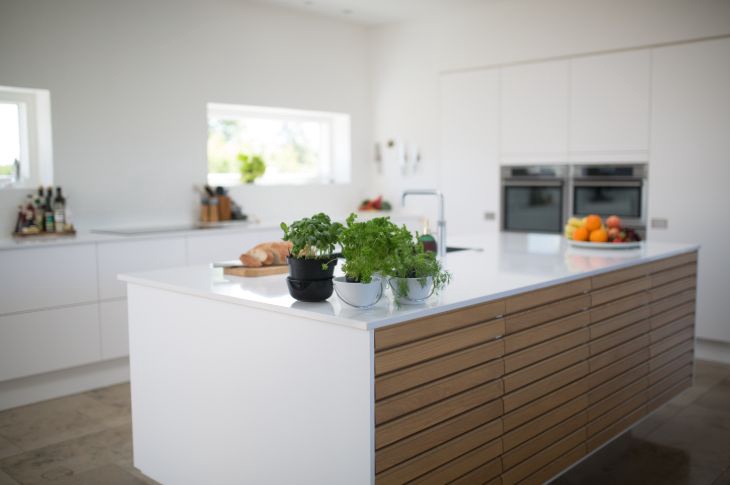 Photo: Pexels.com
Kitchen ideas don't have to be expensive and time-consuming to implement. Even a small kitchen project can solve long-standing and very annoying problems, change the entire look of the room and bring more pleasure to everyday food production. You can find everything you need to implement kitchen ideas in the online store 1a.lt.