Study room at home: tips for setting up
---
Photo: Pexels.com
As more and more people choose to work from home, having a dedicated space for important tasks becomes a necessity. A well-equipped home office ensures a smooth work process – after all, we all know that a place adapted to personal activities contributes to work productivity and efficiency. But which home office would best meet your expectations? Carefully selected tips and interior design ideas await you here!
Why is it important to properly equip the workroom?
Newcomers setting up a workroom often focus all their attention on interior design and forget important aspects of creating a long-lasting, comfortable home office. To equip not only a cozy, but also a functional space, take into account the arrangement of furniture, color without lighting
–
these are some of the most important aspects that will ensure a smooth work process. In addition, choose properly
office furniture
such as a desk and chair, will protect your health.
Study room at home — the best ideas
Photo: Pexels.com
Want to create a modern personal space, but don't know where to start? Our prepared information and unique ideas will help you decide what kind of home office suits your personality.
Suitable room
Take your time setting up your workspace
–
first, choose a suitable room where you can carry out daily tasks undisturbed. It is best to allocate a separate, small room for the home office, which would fit perfectly
computer desk
and electronic equipment. Choose a room with plenty of natural light
–
looking out the window on a busy day can help reduce stress and relax your eyes. Also, think about which part of the house or apartment you will set up your workspace. If you prefer silence and peace, choose a room near the bedroom or kitchen, and if the sound level during work is not important to you, you can install the office near the children's room. Of course, keep in mind that sounds from nearby spaces can be distracting.
Space style
A modern study at home is characterized not only by comfort and functionality, but also by a stylish design. We will introduce you to different interior styles that will help you realize your ideas.
Minimalist style.

Do you like order and cleanliness? Bright colors and strict shapes will help you concentrate and won't distract you during work. And if you want to enliven the space, modern, bright colors will give the office a sense of modernity

storage boxes

.
Scandinavian style.

Functionality and practicality are the distinguishing features of this style. This version of the Nordic interior is dominated by restrained tones, such as white, black and gray.
Classical style.

Classical style

–

one of the safest options that never gets old. Combine high-quality furniture with fragments of dark brown and green colors and you will achieve the impression of an elegant space.
Colors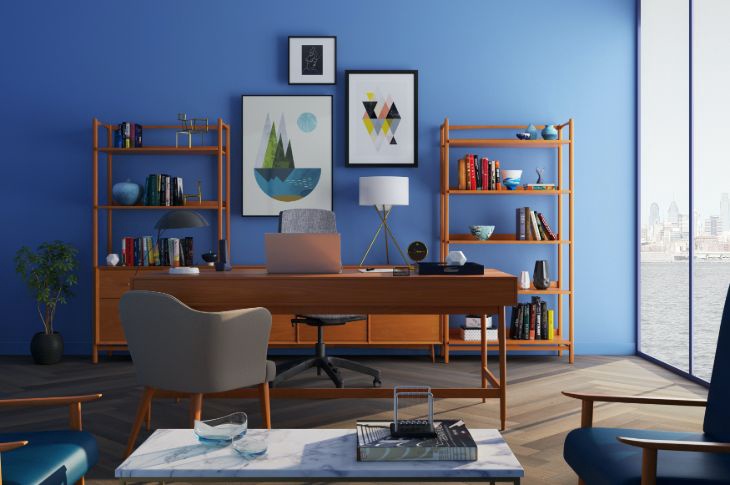 Photo: Pexels.com
An improperly chosen color of the work room can be distracting and hinder the process of completing tasks. Combine the colors of the walls and furniture with the style of the room and you will never beg for it. For minimalist and Scandinavian-style rooms, light white and gray tones or pastel pink would be best, and for industrial style, choose dark brown or even black motifs. However, if you are looking for bolder solutions, you can paint one of the walls of the room in a bright red or blue color.
Furniture
In order to be able to work comfortably and efficiently, choose a comfortable chair and desk. A dining stool will definitely not suit you, because chairs that are not suitable for work are usually of the wrong height and harm your posture. Get an adjustable professional office chair with lumbar support for the lower back, adjustable seat tilt and armrests. If possible, be sure to test its comfort in an office furniture store. And choosing a desk for work is much easier – it must be sufficiently large and capacious.
electronic devices
Not a single employee would do without modern electronic devices that facilitate daily tasks. Whether you have a laptop or a desktop computer, a modern keyboard and computer mouse will definitely come in handy. In addition, a home office cannot be imagined without a multifunction printer and a compact copier. And if you often have to participate in remote work meetings, buy a comfortable headset – so you will hear your colleagues clearly and will not disturb the household.
Functionality
In order for the workroom to be not only stylish, but also functional, technical aspects should be taken care of. For example, consider the distance between electrical outlets and the work table and route equipment cables safely. In addition, if you are preparing to receive clients in the office, it is good to think about the installation of a corner for guests. And if you're thinking of alternative functions for a home office, get a pool table and place it in the room – thus you will create an additional recreation area.
Lighting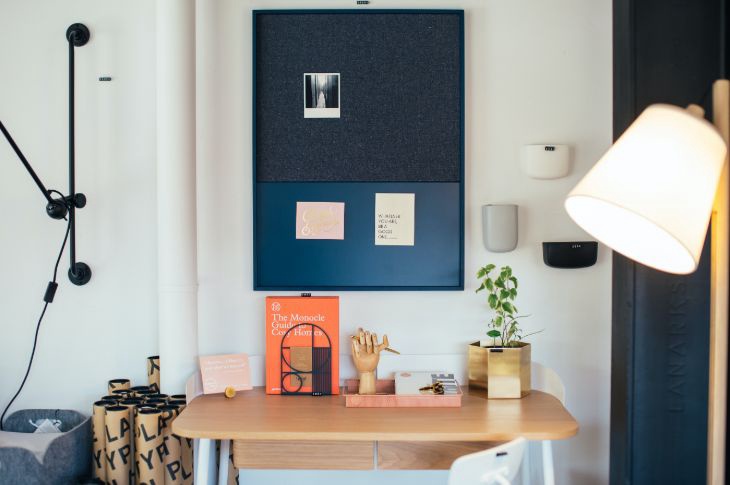 Photo: Pexels.com
Adequate lighting has a great influence on the comfort and efficiency of work. In order to clearly see the documents and information on the computer screen, install the main lamp above the desktop. Also, take advantage of the light coming from the room's window, but make sure you are not blinded by the sun's rays. And if you work late, place LED lamps near the most important electronic devices, which will emit a cozy light.
Decorations
A home office doesn't have to be boring
–
use your imagination and choose accessories that will enliven the atmosphere of the room. If you like modern style, choose large, brightly colored works of art, and if you are a fan of minimalism, decorate the room with cute little things and plants. In addition, various pieces of furniture can also serve a decorative purpose
–
stylish
clothes hangers
can become not only a comfortable, but also an eye-pleasing object.
What mistakes to avoid when setting up a study at home?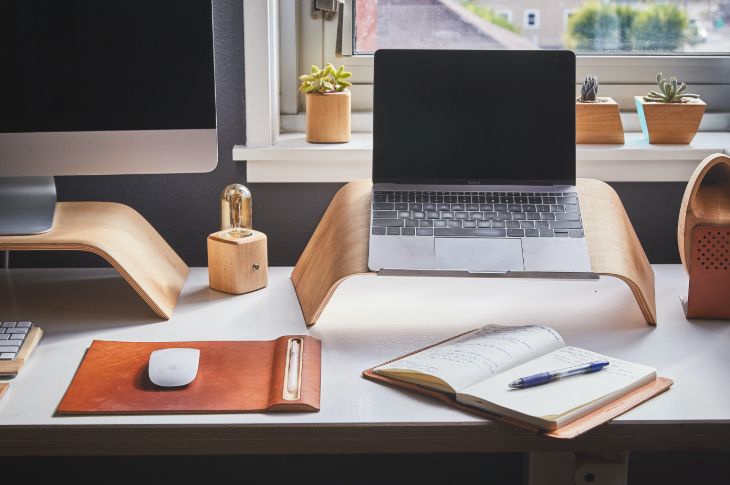 Photo: Pexels.com
If you're new to interior design, it's a good idea to familiarize yourself with the most common home office design mistakes. For example, when planning the interior of the office, do not overdo it with lighting. The best lighting does not dazzle or distract attention, so choose a room with natural light. Also, spend enough time choosing comfortable, high-quality furniture. A perfect work chair cannot be rigid and uncomfortable, so be sure to try the selected model in reality. Follow these tips to avoid any inconvenience.
For those who work from home, choosing the right room and interior design is extremely important. If you follow our carefully selected tips when setting up your office, your home office can become one of your favorite corners of your home. Let your imagination run wild and you will create an interior design that meets your expectations. And you will find the most comfortable furniture and decorations matching the chosen style on our website.